Our foster process is simple yet thorough to ensure the best possible match for both the pet and the family. We are there to support you through every step.

---
Step 1

Application Form

Tell us a bit about you and your pet experience.

Step 2

Application Screened

Application is reviewed. If we have a suitable animal that is a good match for your family profile based on the information provided, we will invite you for a call.

Step 3

Call Scheduled

Zoom call with the team to talk through your application, ask you some questions and give you an opportunity to ask us any questions about our organisation, processes or animals.

Step 4

Meet & Greet

If your application is approved following the call, we will either recommend some pets that we think would be a good match or invite you to an adoption day or the shelter to meet some of our amazing animals!

Step 5

Take Your New Best Friend Home!

We ask for a minimum foster period of 4 weeks (unless exceptional circumstances) although there is no limit on the amount of time you can foster for. A WhatsApp group with the team will be created to support you every step of the way.
During your foster period, you will care for the pet as if they were your own, providing for their basic needs. All medical and vet bills are covered by Animals and Us.

Step 6

Help to Find Them Their Family

You must send us regular updates, including photos and videos, so that we can post for their forever home. You may also be asked to bring the dog to attend our adoption days.

Step 7

You Changed Their Lives!

By fostering, you have done an amazing job in preparing the pet for their forever home! They will hopefully leave your home for their forever family and have a long and happy life with their new family. Of course, if you fall madly in love and can't let them go then that's ok too – we love a foster fail!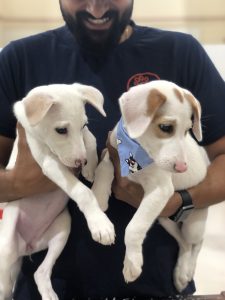 Ready to begin your journey?
---
Once you've had a chance to review the process above, and are ready to take the next step, go ahead and fill our our application form using the button below!
---
Not so sure? Still have doubts? That's no problem - feel free to attend one of our adoption & foster days that we host most weekends. Speaking with our team and meeting the pups is a sure way to clear up any questions you may have.
---