"For every dog that gets sent out
to a foster home we are being asked to
take in another seven"
---
The shelter is the result of many years of hard work from Michelle and volunteers - she originally carried out the rescue work and housed dogs in her home in Fujairah but the sheer number of dogs struggling and suffering on the streets was too much for her to handle so one day in 2016 she made the incredibly brave decision to rent a warehouse with a sandy forecourt and slowly, and largely from her own funds, built the shelter up to what is today.
About Us
Some of the work the shelter has been doing over the past years
Feedings
---
Besides the animals in the shelter, every day we head out to feed strays roaming the streets
Dogs
---
Currently sheltered at our facility in Fujairah
Cats
---
The shelter also homes abandoned cats
Years
---
The time Animals & Us has been operational
A look at some of our dogs!
We have a tremendous number of animals we look after, many of whom have spent their entire lives at the shelter, who would love to have a second chance at life. Give one of our pups that second chance, by either providing them a temporary home with the love and care of a family, or go one step further and make their life complete by making them a part of yours!
How does your support help?
For years, we have been running the shelter purely on the support and goodwill of the public. And during this time, 100% of everything we receive is directed towards the well-being upkeep of the animals.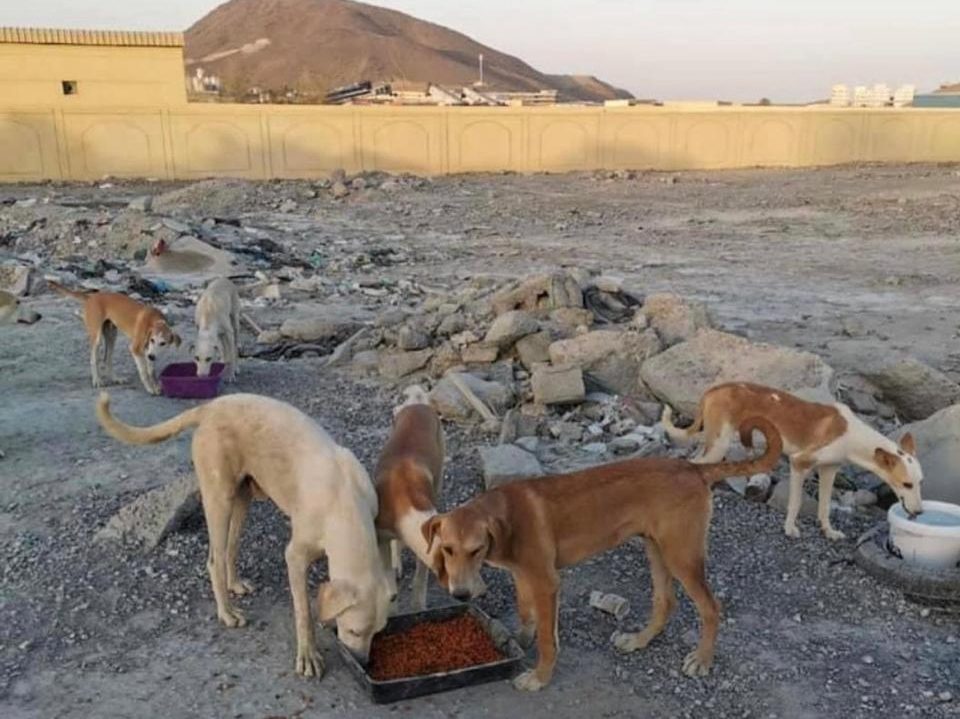 Frequently Asked Questions
Questions around what we do, who we are or how you can help? Below are some of our frequently asked questions. If you still can't find what you're looking for, feel free to get in touch!
Animals and Us is a privately owned and operated animal shelter. The founder, Michelle Francis, has rescued thousands of animals over the last almost 20 years. She privately rents the land on which the shelter sits and has over the years built the shelter up to what is today.
Our animal shelter is based in Fujairah, United Arab Emirates – the majority of the animals we rescue are from the streets of Fujairah, UAE. We do not publicly disclose the exact location of our shelter for the safety of our animals.
3
Can I visit the shelter?
For the safety of our animals, we do not publicly disclose the location of our shelter or have specific opening times. We are a working animal shelter run by a very small number of workers which means time is precious and we have to maintain a consistent routine with our animals. Once approved to foster or adopt, pre-booked visits to the shelter can be arranged through the member of the team you are liaising with. We do sometimes host shelter open days which will be advertised on our social media channels.
4
I've found an animal, can you help rescue them?
Unfortunately there are thousands of stray animals on the streets of the UAE. As one organisation, fully reliant on public support, we are only able to do so much. We often have enormous outstanding bills and rarely have space available in the shelter – this limits our rescue abilities. If you come across an injured animal, please take responsibility and take them to a vet – you could be their difference between life and death.
5
Do you only rescue dogs?
No! Whilst the majority of our residents are dogs, we have a large cattery that is home to many kittens and cats. Our cats are also available for foster and adoption. We also feed a number of donkeys in the areas surrounding the shelter in addition to the hundreds of dogs and cats on the streets.
For a full list of our Frequently Asked Questions, please visit the FAQ page using the button below.
Thank you for your Support!
---
We are always indebted to the people who give our animals a second chance, the chance to lead new and better lives. Without your support, we cannot keep our doors open.